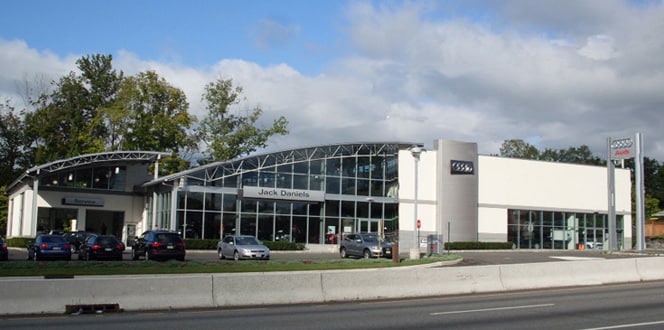 Welcome to Jack Daniels Audi of Upper Saddle River. Your search for a new Audi and the best service in New Jersey has brought you to the right place.
You may be a young professional looking for a car that will impress your coworkers. Or perhaps you want a crossover SUV that can entertain and protect your family. No matter your preferences, we have what you're looking for. The Audi brand has one of the highest quality lineups of any auto manufacturer today, and we're pleased to have a full slate in stock.
To help you find an Audi that matches your needs, we've put together model research pages that give an overview of each model we carry. Narrow down your choices and then schedule a test drive at our store. Learn about some of our top models, such as the new Audi A4, new Audi Q5, and the brand new Audi Q7 for sale.
If a new car isn't what you're seeking, we also invite you to view our pre-owned and certified pre-owned Audi vehicles. You can find great deals on everything by exploring our latest Audi specials to see current offers and promotions on new and used models.
Visit our Audi service center for all your car maintenance needs. We offer top-of-the-line service using manufacturer-approved parts and equipment, and our technicians are factory trained and certified. Bring your vehicle in for basic repairs, warranty work, or any of these routine maintenance procedures:
Schedule a service appointment today, and get in touch if you have any questions.
At this point, you may be wondering, "Why choose a Jack Daniels dealership?"
About Jack Daniels Audi of Upper Saddle River
"The most valuable asset of a firm is its good name. Let us do everything we can to protect it. Let us not allow any distorted judgment or attitude, for we have a sacred trust to protect our employees and our customers. In the long run those firms which will survive and prosper are those who maintain conservative policies and put their co-workers and customers interests first." - John J. Daniels III
When Jack Daniels founded our group in 1972, he had a clear vision of a customer-oriented approach to car sales. That vision, and this saying, has carried Jack Daniels Motors through the past 40 years, and it has turned this store into one of the most successful Audi dealerships in the country.
Since our doors first opened, we've grown into a nationally recognized franchise. We've earned multiple Audi Top Selling Dealer awards, and we have received the prestigious Audi Magna Award on more than one occasion.
The showroom at our Upper Saddle River, New Jersey, location is truly something to behold. It's large enough to carry most of Audi's lineup, and you can see it from a distance thanks to the display cars shining on the roof.
It's the bright faces inside you really want to meet, though. Like Jack said, we also place importance on serving the best interests of our staff. Happy employees means happy customers, and we know every one of them will do whatever they can to help you. From the sales floor to the service area, you won't find a more professional, more friendly group of people.
Our business is still family-owned, now led by Jack J. Daniels IV and his brother Michael V. Daniels. We've grown to serve more than 40,000 customers in Upper Saddle River, Jersey City, New York City, and beyond. If there is anything we can do for you, please get in touch with us at Jack Daniels Audi of Upper Saddle River. We will do our very best to serve your automotive needs.
We also welcome your feedback and encourage you to share your experience at our dealership. If you have any suggestions on how we can improve our service, please let us know.
We're a proud member of the Jack Daniels Motors family of dealerships. If you're looking for one of our other stores, be sure to visit their sites below: