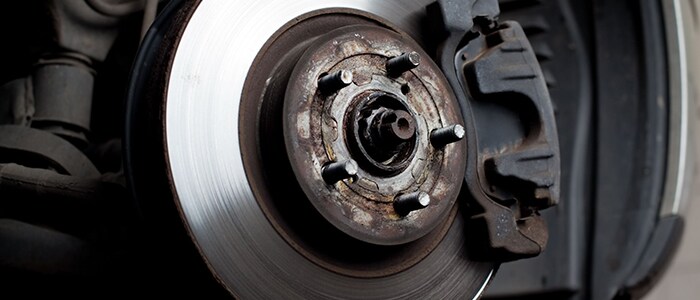 We like to stress the value of routine maintenance, and no component benefits from it as much as your Audi's brakes.
If you own an Audi, you like to get the most out of it. Every car, from the Audi A3 and the Audi A4 on up, is equipped with quattro®. You can take your car places where most cars don't go at speeds that most cars don't reach. For that reason, the brakes and rotors of an Audi see a lot of use. It's a good idea to keep an eye on them.
Brakes are critically important on every vehicle, and having them inspected at regular intervals is as much about safety as it is about saving money. We'll explain why Jack Daniels Audi of Upper Saddle River is the best place to bring your car for brake service and repairs.
Audi Brake Service and Maintenance in the Tri-State Area
If you follow your Audi recommended service schedule, you already know the value of preventative maintenance. Regular service checkups help our technicians catch small problems before they become expensive repairs. Our team has the training needed to spot warning signs, so we can help you save money and protect your car from costly wear and tear.
This pays extra dividends when dealing with the brakes on your Audi. If your brakes fail while you're driving, you are almost certainly going to end up fixing something a lot more expensive. You want to have your brakes serviced long before that's a possibility, though.
Brakes are a complicated system on any car, but especially on an Audi. There are brake pads and rotors, calipers, and lines to account for. Brake pads are most likely to require service and replacement, but it's worth checking on the other components, too.
Technicians at Jack Daniels Audi of Upper Saddle River, located in New Jersey, use only OEM parts and equipment to service your vehicle. You're welcome to order any brake parts you might need through our Parts Center, but going through our Service Center and letting us do the work is even easier.
How long your Audi's brakes last depends on your personal driving habits, but if you're worried that they aren't working right, there are several warning indicators you can watch (and listen) out for:
High-pitched squealing when you step on the brake pedal
Grinding and scraping noises when braking
Taking longer to stop than normal
Vibrations in the brake pedal and steering wheel
Your car pulls to one side when braking
Low Brake Fluid dashboard icon lights up
If you experience any of these, you're already past due for service. Don't just sit around wondering why your Audi's brakes are squeaking. Schedule an appointment right away to have them looked at. When you follow your Audi's service schedule to the letter, you shouldn't encounter any of these problems. Our service advisors will be happy to schedule your next visit in advance when you bring your car in.
If you have questions about brake service, repair, or replacement, call or visit us at Jack Daniels Audi of Upper Saddle River. We welcome customers from Paramus, Jersey City, and New York City, so stop by if you're anywhere near upper New Jersey.
Remember to check our Service and Parts Specials to see if we're running any discounts that can cut back on the cost of your next brake service.